We are very fortunate to offer students a variety of after school intramurals. We currently offer over 12 different sports in which students may participate. We encourage students to get involved in after school activities as these activities foster social, physical, and emotional growth. Students need an Intramural permission slip to participate and a ride home at 4:00pm.
HOW DO STUDENTS FIND OUT ABOUT INTRAMURALS?

- Intramurals will be announced during morning announcements
- Intramurals will be posted in the locker
- Announcements are posted in the main office window.


INTRAMURAL PERMISSION SLIPS:

- Are needed to participate in after school intramurals
- Are located in the boys and girls locker rooms
- Are available at this website click here for permission slip
- Must be signed by a parent/guardian
- Are to be handed in to the coach of the activity, on the day of the first meeting of the activity.
- Must be handed in for each activity in which the student participates.

INTRAMURAL MEETING DATES/TIMES:

- Schedules are posted in the locker rooms. They are also posted on the Event Calendar.
- Students are to copy down the dates and bring them home.
- Students do not have to attend every session- they go when they are able to.
- Students can join activities after they have already started.
- Students can join more than one activity at a time (they must hand in a different permission slip for each activity).
- Each activity meets 6 or 12 times.
- Pick up is promptly at 4:00- please make necessary arrangements.


SCHEDULE OF INTRAMURAL ACTIVITIES

The following chart provides information about the different intramurals that are offered as well as a general time of when the intramural takes place. Beginning dates may change so it is important for students to listen to morning announcements. Please contact the coach with any questions you may have. Sports are co-ed unless otherwise specified. All grades are welcome unless otherwise specified (some sports are split by grade level due to the high level of participation).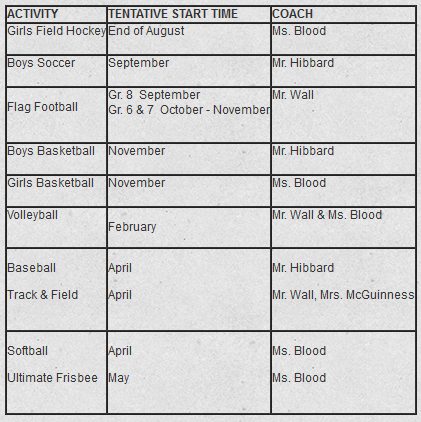 * Tentative start dates are subject to change


Coaches make their own schedules and will post them in the locker rooms. Schedules may change suddenly so it is important for students to communicate changes with their parents. Intramurals may be cancelled due to rain if no indoor space available; however most of the time, indoor accommodations are available. Cancellations will be made during the school day, as early as possible. There will be no intramurals when school is cancelled or on an early dismissal day.